Learning from Scripture and History on Pastoring in Political Turmoil
By Jonathan Leeman | 9Marks Journal: Pastoring Through Political Turmoil | 09.29.2020
We feel the political heat for different reasons, but we all feel it. How do we endure? Here are thirteen principles for pastoring through political turmoil.
Pastoring through Political Turmoil on Sunday Morning
Pastoring through Political Turmoil Out of the Pulpit
Pastoral Wisdom For the Church in Politically Tumultuous Times
Pastoring in Political Turmoil: International Perspectives
Pastors Talk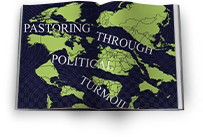 Free Download
PDF, ePub, and Kindle files will be sent to this email address. As part of our community, you will receive content & communication from 9Marks. You may unsubscribe at any time.
Our work is possible by the generosity of our readers. Give Today