The Main Gathering
By John Sarver | 9Marks Journal: The Church's Ministries | 12.15.2022
The Sunday gathering is the primary discipler of a local congregation because of what it proclaims and the pattern it sets.
Children's Ministry
Age-Specific Ministry
Small Groups
Gender-Specific Ministry
Book Reviews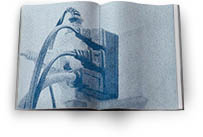 Free Download
PDF, ePub, and Kindle files will be sent to this email address. As part of our community, you will receive content & communication from 9Marks. You may unsubscribe at any time.
Our work is possible by the generosity of our readers. Give Today