Our Team
Leadership
Mark Dever
President
Mark Dever (@MarkDever) serves as the senior pastor of Capitol Hill Baptist Church in Washington, DC. A Duke graduate, Dr. Dever holds a M.Div. from Gordon-Conwell Theological Seminary, a Th.M. from The Southern Baptist Theological Seminary, and a Ph.D. in Ecclesiastical History from Cambridge University. He is the president of 9Marks and has taught at a number of seminaries. Dr. Dever has also authored several books and articles. He and his wife Connie live and minister on Capitol Hill in Washington, D.C.
Ryan Townsend
Executive Director
Ryan gives oversight to the organization. Born and raised in Houston, he grew up attending a Unitarian church. Ryan moved to Washington, DC in 1993 to attend Georgetown University. After graduation he converted to Christ through the ministry of Capitol Hill Baptist Church, where Ryan later served as a pastoral assistant to Mark Dever. In 2005, Ryan began his master of divinity studies at The Southern Baptist Seminary in Louisville. During his time in Louisville, Ryan served as the pastor for administration & children at Clifton Baptist Church. Ryan now lives with his wife and five children in Washington, D.C.
Jonathan Leeman
Editorial Director
Jonathan (@JonathanLeeman) edits the 9Marks series of books as well as the 9Marks Journal. He is also the author of several books on the church. Since his call to ministry, Jonathan has earned a master of divinity from Southern Seminary, a Ph.D. in Ecclesiology from the University of Wales, and has worked as an interim pastor. He lives with his wife and four daughters in Cheverly, Maryland.
Rick Denham
International Director
Rick oversees 9Marks' International ministry. Raised in Brazil in a missionary family, Rick returned to the States for college and afterward started a merchandising company where he worked with many Christian bands like DC Talk and Michael W. Smith. But in 2005, after 17 years in the music industry, Rick and his wife Kimberlie sold their business and returned to Brazil to serve as missionaries. At this point, Rick began working with FIEL, a publishing and teaching ministry his parents started in 1966, and he continues to serve as their President. Rick is thrilled to partner with 9Marks to help pastors establish healthy churches among the nations. The Denhams live in Sao Jose dos Campos, Brazil, with their children, James, Lilah, and Julieta.
Staff
Paul Passaro
CFO
Paul Passaro has served as the CFO of 9Marks since 2011 and is a partner at Brown-Locy Advisors. Paul's career began on Wall Street in 1987. Since then, his management responsibilities have included leading finance, operations, strategic planning, human resources, and business development. In addition to three years of mission work in South Africa, Paul has helped plant churches and served on the boards of non-profits and privately-held businesses, including Thrive Farmers International. He is a cum laude graduate of Williams College with an MBA from UNC's Kenan-Flagler Business School. Paul and his wife, Dr. Kristi Passaro, are the parents of three children and reside in Chapel Hill, NC, where they are members of Christ Community Church.
Drew Allenspach
Development Manager
Drew helps the executive director develop ongoing relationships with 9Marks' financial partners. His goal is to personally thank and concisely inform our generous team of investors helping build healthy churches. Drew is married to Katrina, whom he met at a 9Marks Weekender. They are members of Capitol Hill Baptist Church, where Drew serves as an elder. They have two children, Jackson and Katelyn.
Alex Duke
Editorial Manager
Alex writes, edits, and plans much of the content for the 9Marks website. He graduated from Western Kentucky University in 2011 with a degree in Journalism and Creative Writing. He graduated in 2017 with an MDiv from Southern Seminary. After spending two years doing youth ministry in Queens, New York, Alex and his family moved back to Louisville. He lives there with his wife Melanie and their three kids—Elliot, John, and Zoe. He also serves on staff at Third Avenue Baptist Church.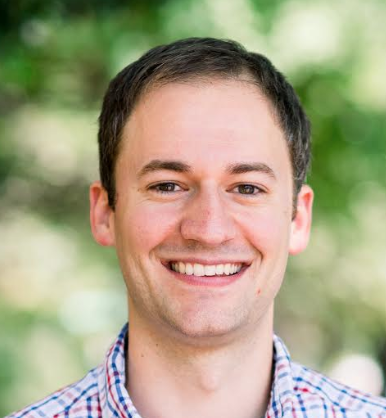 Sam Emadi
Senior Editor
Sam writes, edits, and manages special publishing projects for 9Marks. He graduated from the Southern Baptist Theological Seminary with an M.Div in 2012 and with a PhD in Biblical Studies in 2016. He and his wife Corrie Ann live in Louisville, KY along with their four children, Cyrus, Carson, Leighton, and Lincoln. Sam is an elder at Third Avenue Baptist Church in Louisville, KY.
Karen Race McCutcheon
Event Coordinator
Originally from California, Karen spent 13 years living and working in Washington, D.C. She served as Director of White House Personnel for President George W. Bush, took a brief interlude to walk across Spain (literally), and then served as the General Manager at 9Marks for 5 years. She married Rob and moved to Dubai, UAE and then Tampa, FL before recently returning to D.C. They adopted Robbie in 2018, and she now serves as a full-time mom, professional photographer, and a part time Administrative Assistant at 9Marks, focusing on the Weekender. Karen attends Capitol Hill Baptist Church.
Alberto Jaquez
OPERATIONS Manager
Originally from the Dominican Republic, Alberto serves as the Operations Manager for 9Marks. He is currently serving as an elder at Capitol Hill Baptist Church. He's married to a wonderful lady named Elisabeth, who grew up as a missionary kid, and is father to Luna Mae. In Fall 2016, he did the CHBC internship. Before that, he served at Iglesia Bíblica del Señor Jesucristo, his home church in the Dominican Republic.
Katie Feather
International Operations and Office Manager
Katie oversees the operations of the international department of 9Marks. She grew up in Northeast Ohio and loves all things Cleveland. Katie graduated from Bowling Green State University in 2018 and moved to Washington, D.C. in May of 2019. She enjoys spending time with her family and friends, reading, traveling, and hanging out with her cat, Piper. Katie is a member of Capitol Hill Baptist Church.
Jaime Arora
Financial Manager
When she is not literally running after her two small children, Jaime works part-time as the financial manager for 9Marks. She received her bachelor's degree in business from American University and her law degree from George Washington University. Between jobs at an accounting firm, a law firm, and a tax magazine, Jaime spent time serving as the director of an orphanage in Zambia and traveling to all seven continents. She lives with her husband and family in Washington, D.C., where they are members of Capitol Hill Baptist Church. Jaime enjoys leading a small group, running, baking, and watching too much reality TV.
Amber Hammond
Executive Assistant
Amber serves as the Executive Assistant for 9Marks. A native Texan and a graduate of the University of Central Oklahoma, she spent the last two years in Washington, DC as the Office Manager at 9Marks. She recently moved to Indianapolis, IN, with her husband, Alex. Amber loves details and completing tasks behind the scenes to make things run smoothly. She and her husband are both members at Castleview Church. They enjoy reading and cooking together.
Mary Beth Freeman
MAJOR EVENTS COORDINATOR
Mary Beth spent 8.5 years serving as an administrator for Campus Outreach in Greenville, SC and Washington, DC. Mary Beth loves details, logistics and bringing order out of chaos. After serving four years as 9Marks' General Manager, she's currently serving as the Major Events Coordinator. She spends her free time with her handsome Australian husband Mathew and her new daughter Katherine.
Jeri Choi
Community Manager
Jeri serves as the Community Manager for 9Marks. She grew up in Maryland and graduated from the University of Maryland, Baltimore County with a degree in American Studies and Social Welfare. She later went back to school in Dallas, TX for her M.A. in Christian Education. She is married to James, Pastor of New Covenant Baptist Church. Jeri and James have 3 young children and currently reside in Maryland.
Judith Henderson
International Resource Manager
Judith lives in Shawinigan, Quebec with her husband, Daniel, and their two kids where they attend l'Église évangélique baptiste de Shawinigan-Sud. Since moving to Quebec as missionaries, Judith learned French and currently leads a weekly women's Bible study. Judith and her husband share a passion for books. In her free time, Judith loves to read, especially studying theology and ecclesiology. Her husband serves at a French publisher that makes Christian books available in French, including translating and publishing many of the 9Marks books. Judith serves 9Marks as the International Resource Manager.
Taylor Hartley
Communications manager
Taylor writes, edits, and project manages for 9Marks. He graduated from Southern Seminary in 2022 and intends to pursue more education. Taylor is married to Rachel and they live on the Hill in Washington, D.C. They are members at Capitol Hill Baptist Church.
Sam Koo
Multimedia Manager
Sam serves as the Multimedia Manager at 9Marks. He graduated from Southern Seminary, and finished the pastoral internship at CHBC in 2022. He is married to Anna and is a father to James. Sam and Anna are members of Capitol Hill Baptist Church.
David Daniels
Editorial Assistant
David Daniels manages book reviews and edits various things with words for 9Marks. He is the husband of one wife named Jharmaine and the father of one son named David Jr. David and Jharmaine are members of Edgewater Baptist Church in Chicago, IL.
Simona Gorton
International project Manager
Simona Gorton serves as the International Project Manager for 9Marks. She lives in Pennsylvania with her husband and two daughters in an old farmhouse they are restoring in all their (abundant) spare time. Gardening in the dirt with bare feet, writing, and listening to her toddler tell the baby sister stories about butterflies, giants, and princesses are some of her favorite things.
She has published two books, both biographies, with a few more titles in process (using any leftover spare time).