Equipping church leaders with a biblical vision and practical resources for building healthy churches
Who We Are
At 9Marks, we help pastors, future pastors, and church members see what a biblical church looks like, and to take practical steps for becoming one. Our goal is to see churches characterized by nine biblical marks of a healthy church. Why these nine? Because sadly, they're too often assumed or ignored in evangelical churches.
Learn About the Nine Marks | Where Do I Begin?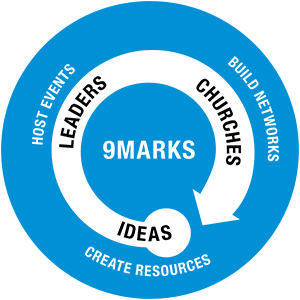 9Marks
Strategic
Framework
At our core, 9Marks is an ecclesiological think-tank. Our resources exist to popularize a certain set of ideas. At the same time, we recognize that our ideas remain useless if they fail to connect with our target audience. This is why we host events: to cultivate the connection between our ideas and those we want to influence and encourage. Finally, our goal isn't simply biblical ideas being consumed by the right audience; our goal is building healthy churches who seek to build still more healthy churches. This is why we foster informal networks of like-minded churches, because this work requires patient and prayerful cooperation.
In order to inform and influence churches, 9Marks creates a wide variety of practical resources. This includes books, articles, podcasts, book reviews, and a quarterly Journal. We also host regular events around the world—almost all of them geared toward equipping and encouraging pastors.
9Marks supports the global church by partnering with international churches and pastors in translating our resources into dozens of languages. We have a growing number of language-specific websites where we post articles, books, and other translated material in partnership with local ministries for worldwide access.
Our Team
In 1994, Mark Dever became the senior pastor of Capitol Hill Baptist Church. He founded The Center for Church Reform in 1998, which eventually became 9Marks. Serving on the leadership team are Jonathan Leeman, Editorial Director; Ryan Townsend, Executive Director; and Rick Denham, International Director. They're joined by a dedicated staff. Content for the website usually comes from church leaders around the world.
Meet the team | See all authors
Our Funding
9Marks is a donor-supported Christian ministry. Generous individuals, churches, and foundations financially invest in our work. We aspire to match this generosity with gratitude.
We want to concisely inform our team of investors with what God's doing through our partnership together. See Church Stories for a few examples of how our financial partners have helped us in the work of building healthy churches among the nations. All charitable contributions are tax-deductible.