Deacons: Understanding the Office
By Jamie Dunlop | 9Marks Journal: Deacons | 03.31.2010
Elders lead ministry, deacons facilitate ministry, the congregation does ministry. That, I believe, is the New Testament model.
Deacons: Putting It into Practice
Book Reviews
From the 9Marks Journal: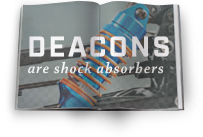 Free Download
PDF, ePub, and Kindle files will be sent to this email address. As part of our community, you will receive content & communication from 9Marks. You may unsubscribe at any time.
Our work is possible by the generosity of our readers. Give Today