What's the big deal about Expositional Preaching?
As part of our Reading Plan for 2020, we're going to highlight resources around the monthly theme. In January, we're unpacking Expositional Preaching. Dive in:
ARTICLES
JOURNAL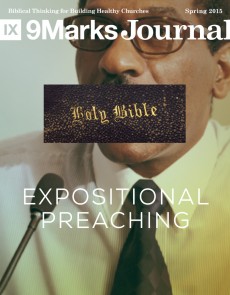 Expositional Preaching: We create with hands, shovels, and bulldozers. But not God. God creates by speaking. He says, "Be," and it is. (Also available in Spanish.)




WATCH
LISTEN
QUICK ANSWERS
BOOKS

Expositional Preaching (David Helm) — In addition to offering practical, step-by-step guidance for preachers, this short book will equip all of us to recognize good preaching when we hear it. Translations available: Arabic | Chinese | French | German | Hindi | Korean | Polish | Portuguese | Russian | Spanish




Preach: Theology Meets Practice (Mark Dever & Greg Gilbert) — A helpful book which explains how God exercises divine power through the Word. The authors give practical advice on how pastors can decide what texts to preach on, how to prepare and outline their sermons, and how to deliver and review those presentations.




Word-Centered Church (Jonathan Leeman) — When churches center everything they do on God's Word—when the pulpit ministry gives direction to every aspect of the church's life—growth happens God's way. God's Word is what creates the church, and it's what sustains it, too.




Hearing God's Word: Expositional Preaching (Bobby Jamieson) — This series explores the biblical foundations of key aspects of the church, helping Christians to live out those realities as members of a local body. (Available in Spanish.)