Pastoral Perspectives on Hell
By Mark Dever | 9Marks Journal: Hell: Remembering the Awful Reality | 08.20.2010
Of course, it's good to teach our children not to be scared by shadows, and to be wary of those who use fear to sell us something. But what if there really is something to fear?
Hell in Biblical and Theological Perspective
Recent Book Reviews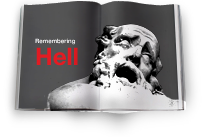 Free Download
PDF, ePub, and Kindle files will be sent to this email address. As part of our community, you will receive content & communication from 9Marks. You may unsubscribe at any time.
Our work is possible by the generosity of our readers. Give Today