SCRIPTURE ON SINGLENESS
By Stephen J. Wellum | 9Marks Journal: Pastoring Singles | 03.20.2017
Human marriage is vitally important, but it's not permanent nor is it the only place where humans fully image God.
PASTORING SINGLES
SINGLES AND THE CHURCH
THE SINGLE PASTOR
OTHER RESOURCES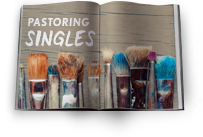 Free Download
PDF, ePub, and Kindle files will be sent to this email address. As part of our community, you will receive content & communication from 9Marks. You may unsubscribe at any time.
Our work is possible by the generosity of our readers. Give Today