YOUR CHURCH NEEDS PREACHING
By Colton Corter | 9Marks Journal: What's Wrong With Gospel-Centered Preaching Today? | 03.31.2020
What's the preaching like in America's biggest churches? That's the question I set out to answer.
PREACHING IN THE BIBLE
HOW (NOT) TO PREACH
HOW TO PREACH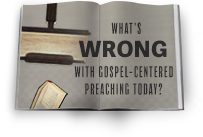 Free Download
PDF, ePub, and Kindle files will be sent to this email address. As part of our community, you will receive content & communication from 9Marks. You may unsubscribe at any time.
Our work is possible by the generosity of our readers. Give Today